INSTALLATION : MOTHER OF MY EYES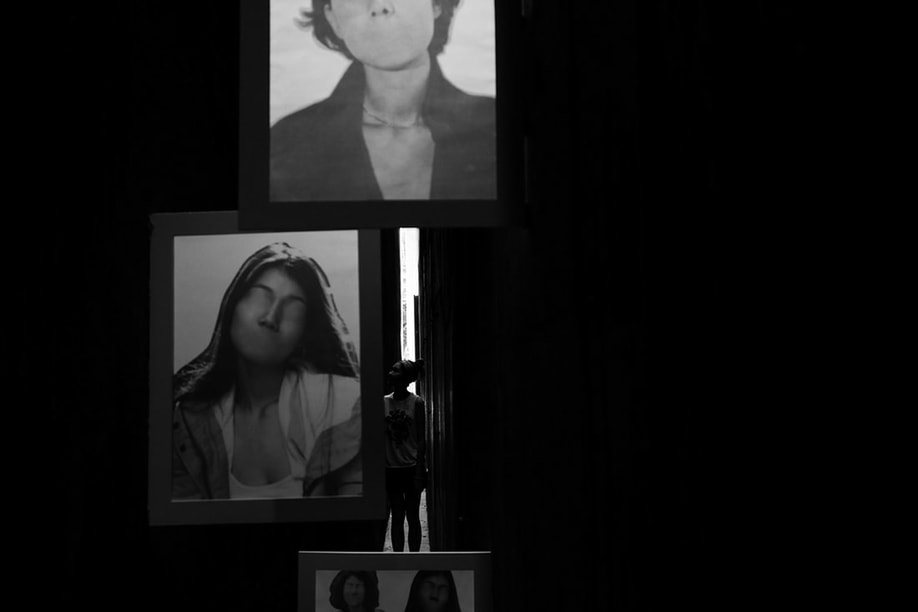 ---

For this installation, illuminated portraits of me and my mother were set up and spread through a narrow path for the public to walk in and have a introspective look into our relationship. The dual sided "light-boxes" showcase a range of our photographs around the same age.

I have intentionally omitted the features where we bear most resemblance on one side, and had the other preview smaller vivid fragments of ourselves. This was to diminish likeness in our identities as one of the same, and eliminate any scattered symbolism as a relational tie.

​​​​​​​​
---
Pendant Essay
If you'd asked me who the most beautiful person was, I'd always answer that it was my mother. But when I answered like that, I didn't used to admit it eagerly either— as my relationship with my mother was and still is an intricate one.
During my years of adolescence, I was plump, had spots aplenty on my face, and wore horrible haircuts after horrible haircuts

(especially those that defined teenagers in early Millennia)

. It was easy to feel insecure with all these changes going on and my mother certainly didn't help. Instead, she made sure to let me know that to be so heavy was unnatural and that when she was my age, she was thin, agile, and nimble. She prided on the fact she needn't study to get good grade as she was able to take a look at her books and memorise all she needed. Most importantly, she knew the value on focusing on the sacred texts found in libraries than cheap words spun from the mouth of daft, young boys.
Despite it all, there never was an intention to harm. She was blunt and said what she felt. Those who knew her adapted to her sharp tongue and quick wit. But I didn't see it that way back then. I started thinking: "so where were my shares of smarts and looks?". Many nights were spent questioning why I lost at this lottery of genetics. I have her eyes, somewhat her fuller top lip... Though, that was it. The only conclusion I came to was that being more like her would make her happy. And even if it seemed like the furthest thing I should want, deep down I yearned to be as memorably beautiful as her too.
There was a point in my life where I couldn't stop internally emulating her harsh critiques of me, at me. I criticized myself in ways even she would never speak to me in, but those thoughts still come through in her voice. It became a very hard habit to break, and lingered with me for years before I could shake it off. I just couldn't tell what was me or of her anymore; though wasn't that what I wanted in the first place? The disillusion became such an adjusted routine but I now recognise the distance it created in our relationship.
Looking back now at the age I am now, I harbored those feelings because I couldn't understand the intentions of a highly critical, highly concerned mother. This project became a meditative reflection of what I had gone through. In an act of dissonance, I found peace instead.
---